What is a Sales Template

A Sales Template is essentially a template of a series of line items that can be used as a shortcut for adding items to Invoices, Estimates and Customer Orders. A sales template can be bundled into a template product which allows you to assign the bundle as a billing trigger, and also allows the clinic to assign these sales templates to therapeutics and procedures.


Creating / Editing a Sales Template 

1. Go to the orange FINANCIAL module.
2. Select Sales Templates.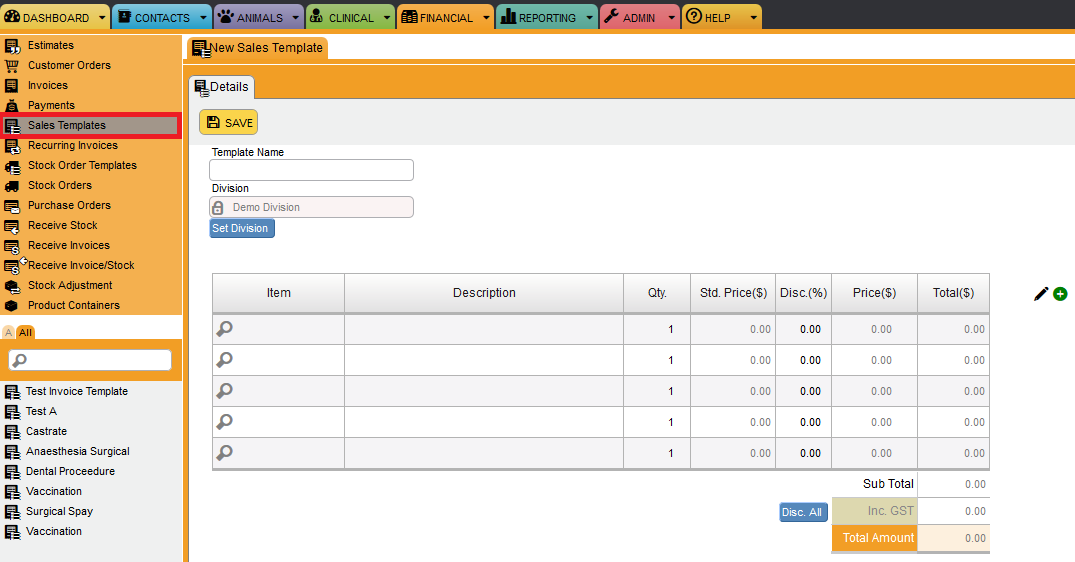 To create a new Sales Template: 
When you select the Sales Template section, you should be presented with a blank sales template to create a new one.
There are a few ways to use sales template. They can be used as billing triggers to help save time when invoicing out procedures or they can be used when estimating. To avoid double billing these two options will require slightly different items in their sales templates.

To create for use in estimates: 
1. 
Give your sales template a name - prefix/Suffix this with EST/Estimate or something Similar
2. 
If applicable, select Department for the Sales Template - please note however that the Sales Template will only be visible to a user logged into the division of the Sales Template.
3. 
Add ALL the items you would use for this template, services/medications/labs/imaging/Vaccinations/etc.
4. 
Save
To create for use as procedures:
1. 
Select the Estimate version of this sales template
2. 
Select Create Copy
3. 
Remove the word COPY and what you prefixed/suffixed the name with and replace with Pro/Procedure or similar (however is not necessary).
4. 
Remove the Items that will be billed out through writing your clinical history
-
Take home medications
-
Labs/Imaging
-
Vaccinations
To edit an existing Sales Template: 
On the left hand side, below the search function there should be a list of existing templates that you can choose from. Select the sales template that you wish to edit. Make any necessary changes and make sure to SAVE.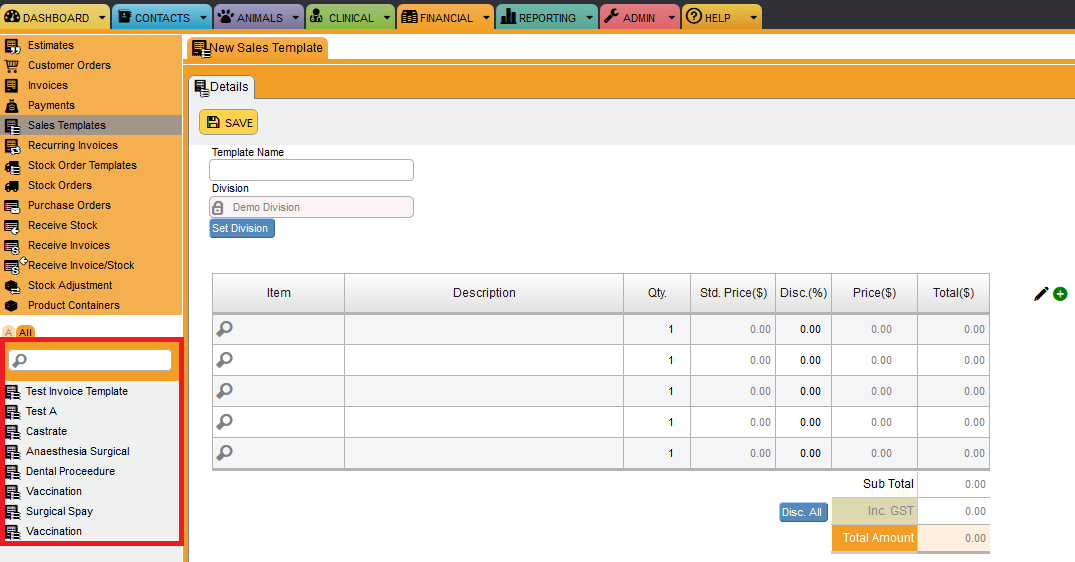 Fixing a line item in a Sales Template
A sales template will generally update pricing when the product price / cost changes. If you would like the items in your sales template to have a fixed price regardless of the changes to the product itself, you can select the line item to be fixed. 



Using Sales templates through Estimates and Invoices
Sales templates can be used on estimates and invoices to pull through a standard bundle of products that are typically used together.  Any line item can be removed or edited once pulled through to an estimate or invoice.

On either an Estimate or an Invoice, there is white button that should read "ADD SALES TEMPLATES". This will prompt you to choose an existing template that you have stored under your Sales Templates.




Using Sales Templates Through Billing Triggers

You can create a single item (called a Templated Product) that you can use in a clinical record that will bill your whole sales template for you.

You will need to have created a sales template or use an existing template to continue.

1. Go to Admin → Products → Template Products
2. 
Select a name and code. Prefix the code with "TMP_" This is for when searching the product people will know which the single line item product is and which linked to the sales template.
3.
Assign the correct sales template to be linked to the Template Product. (Note this name does not appear on the client invoice or your clinical record).
4. 
Assign the Template Product to a Primary Product Group (You may want to create a product group called 'Sales Templates' to assign these to).
5.
This templated product can now be used as a billing trigger.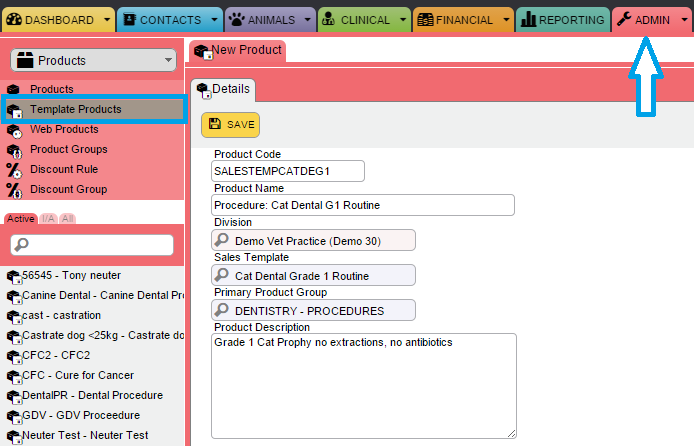 Making Sales Templates available as a Therapeutic/Procedure

Sales templates that have been linked to a Template Product can be assigned to a therapeutic / procedure as a billing trigger so that when a therapeutic / procedure is used under a clinical record, the sales template is automatically put on the invoice.

You will need to follow the steps under "Using Sales Templates Through Billing Triggers" first to ensure your sales template is first linked to a Template Product.
Now that you have your Templates available as a Templated Product you can link these up to the procedures.
1. 
Go to Admin → Clinical → Therapeutics / procedures.
2.
Create a new therapeutic - Give it a Name.
3.
In the billing trigger section select the "TMP_" product to match - this is the Template Product created in the previous section.
4.
Save.
5. 
The therapeutic / procedure should now be available to choose under the therapeutics and procedures of the clinical record.